PHOENIX — Attorney General Kris Mayes is threatening to sue the governor and the Legislature, saying they plan to take funds her office got from opioid makers.
That money from court judgments is supposed to be used to prevent and treat opioid misuse, but Mayes contends the governor and lawmakers want to sweep it into the state's general fund for other uses. And she blames the money crunch on the ballooning costs of universal vouchers that let any parents send their children to private and parochial schools at a state expense.
In a letter Saturday to her fellow Democrats, Gov. Katie Hobbs, and to the GOP-led Legislature, Mayes said she is alarmed her office and most state agencies will not get additional funds in the new state budget, a situation she blamed on "the catastrophic drain on state resources caused by universal Empowerment Scholarship Accounts." Parents' demand for the program has exceeded projections.
"Any budget that does not adjust the general fund during a time of inflation is a budget cut," Mayes wrote in the letter obtained by Capitol Media Services.
She listed a series of services her agency provides and how they would be impacted, such as those for the Department of Child Safety. The Attorney General's Office works with DCS to prosecute child abuse cases.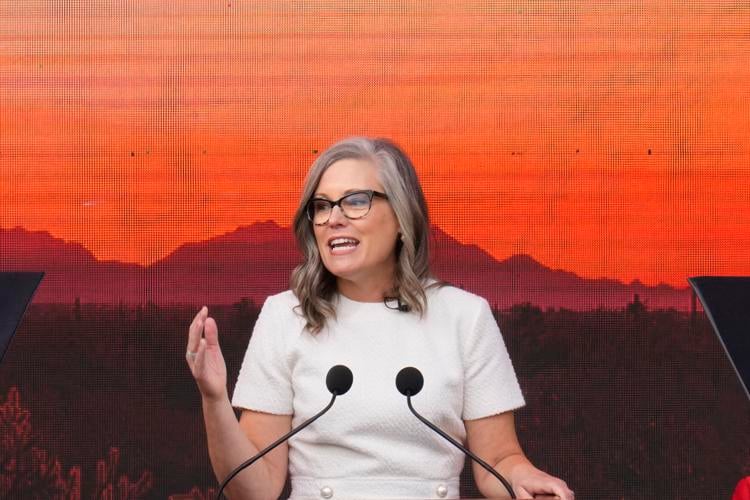 It's not just that there won't be an inflation adjustment. Mayes said she requested a 15% pay increase — nearly $3.9 million — to deal with the fact that as the child-abuse caseload grows, she is unable to fill positions.
She separately argued that her criminal prosecution's division needs more tax dollars.
She said there are more than 18 positions that are paid for through the Consumer Protection Revolving Fund. That's fueled by Arizona's share of a 2012, $50 billion nationwide settlement with lenders who cheated borrowers out of money.
The only thing is, Mayes said, those funds will most likely be depleted by the end of 2025.
'I will not stand by'
On those issues, the attorney general may be at the mercy of the governor and lawmakers who have the constitutional authority to set spending and who are looking to put the finishing touches on a state budget for the coming year as early as this week.
But Mayes may have a legal tool at her disposal over what she said has been discussed about having the Legislature decide how to use money Arizona got through the consent judgments with several pharmaceutical companies for their role in the opioid crisis.
Arizona will get more than $1.1 billion over the next 18 years, of which the state government gets about $502 million, and the rest goes directly to counties, cities and towns.
Those dollars are off-limits to lawmakers, Mayes said.
She said the consent judgments — recorded with and enforceable by the courts — had specific requirements on how the money would be spent. Giving it to lawmakers to spend how they wish is not among those intended targets.
"As attorney general I will not stand by and allow this to happen," she warned Hobbs and lawmakers. I am prepared to go to court to ensure that the state is able to obtain and properly direct those funds for opioid treatment, prevention and education if warranted."
Disputes with Hobbs
How much traction Mayes' demands will get from Hobbs or the Legislature is unclear.
Mayes has been in an open feud with Hobbs over the lease of state land in La Paz County to a corporation using the property — and the water beneath it — to grow hay for cattle in Saudi Arabia.
The attorney general contends the contracts should be voided, while the governor has pushed back and questioned whether that would be illegal.
At the same time, Mayes has publicly lashed out at the Arizona Department of Water Resources, saying it has failed to live up to its legal obligation to protect groundwater supplies.
While he has acknowledged the problems going back years, long before Hobbs took office in January, that department is now under Hobbs' direction. Hobbs has kept Tom Buschatzke, who was previously Republican Gov. Doug Ducey's choice, as department director.
Hobbs' press aide Christian Slater declined to address the specific questions about the budget she would approve.
"Gov. Hobbs is committed to working with Democrats and Republicans to pass a budget that prioritizes the needs of everyday Arizonans and helps build a state that works for every community," he said Sunday in a written statement.
'She will get her piece of the pie'
As far as Republican legislators go, many are allies of former Republican candidate Abe Hamadeh, who is contesting the results of the November election in which he lost to Mayes for attorney general by just 280 votes. A hearing on his bid for a new trial is set for later this month.
Then there are other legal fights, as well.
House Speaker Ben Toma of Peoria and Senate President Warren Petersen of Gilbert are seeking to intervene in a case over the legality of a 2021 law that makes it illegal to perform an abortion if the doctor knows the procedure is sought "solely because of a genetic abnormality of that child," including chromosomal disorders. That move comes because Mayes has refused to defend the law because she says it runs afoul of a right of privacy in the Arizona Constitution.
And the same time, Republican leaders have filed paperwork to defend a 2022 law that bars transgender girls from participating in girls' sports after Mayes disqualifies her office from getting involved.
The failure to defend laws approved by the Republican-controlled Legislature is a raw spot.
"The attorney general should be focusing on the core functions of his position, like defending the law, instead of trying to influence budget negotiations, as well as crafting his own water policy," said Senate President Pro-Tem TJ Shope on Sunday.
"She will get her piece of the pie," the Coolidge Republican said in a written statement. "We don't need to cut K-12 or anything else to fund her agency," adding, "the Legislature and the governor will hammer out funding details."
A spokesman for Toma said there would be no response to Mayes until at least Monday, when the latest budget plans are reviewed.
Howard Fischer is a veteran journalist who has been reporting since 1970 and covering state politics and the Legislature since 1982. Follow him on Twitter at @azcapmedia or email [email protected].